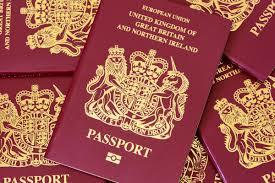 The "B" Word
Yep, Brexit. Don't worry, we aren't going to get into any kind of discussion about it, we are simply doing a post to help those who want to know information about their Passport, driving abroad and posting mail abroad.
The best place to find all your information around Brexit and how it will affect you is here: www.gov.uk/brexit
The below information was correct as of 21st October 2019. If anything changes the website address above will have all the latest updates.
Today we are looking at Passports!
If you are travelling to Europe after Brexit (31st January 2020), whether for Business or pleasure, you will need to
Check your passport

Get travel insurance which covers your healthcare

Check you have the right driving documents

Passports: check if you need to renew
You may need to renew your British passport earlier if you're travelling after Brexit.
On the day you travel, you'll need your passport to both:
have at least 6 months left

be less than 10 years old (even if it has 6 months or more left)
This has confused quite a few of our customers in branch. Basically if it is an Adult Passport take the start date of your passport, add 10 years, then minus 6 months. If it is a Child's Passport add 5 years then minus 6 months.
I recommend you use this tool to check whether your passport is valid for the country you're visiting.
If you do not renew it, you may not be able to travel to most EU countries and Iceland, Liechtenstein, Norway and Switzerland. These rules do not apply to travel to Ireland. You can continue to use your passport as long as it's valid for the length of your stay.
If you need to renew your passport, we offer a Check and Send service which speeds up the process, taking around 3 weeks to arrive instead of 6 weeks. If you need one sooner than that you will need to contact the Passport Office directly.
Thanks for reading,
Beth